WE DO NOT RECOMMEND US MAIL RIGHT NOW! Their 2 to 3 day shipments are taking weeks! Due to the advent of the COVID-19 virus and an increase in online orders, we are experiencing delays in delivery times with all our shippers.
Please understand that after the package leaves our office we have no control over when it will be delivered.
We appreciate your patience during this time.
UPDATE! Thanks to Southwest Airlines We will limited services at least until Wednesday January 31st. All on-line orders, e-mails and phone calls will be answered starting then and in that order. Thanks!


Confederate Belt Buckles and Where NOT to Find Them!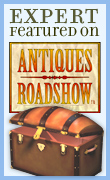 For those of you who have missed seeing Rafael on TV
there is a schedule of episodes that are scheduled to run on the PBS web site.
Check the PBS website:
www.pbs.org

for local air times!

WE HOPE TO SEE YOU AT THESE UPCOMING SHOWS!